BSAC and GUE are working more closely together and we invited James Sanderson to come and visit the club and give us some background of the GUE approach.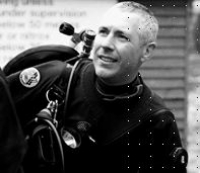 Global Underwater Explorers are an American based agency who's associated projects are responsible for conducting some of the world's most remarkable dives, their head of organisation still holds the world record for a cave dive which had him 7km away from the nearest air pocket! The success of this group has encouraged great interest in their diving and procedures. Of particular interest is the promotion of solid fundamental skills for all divers (recreational and technical) as well as adherence to a common diving standard.
James Sanderson has amassed over 1600+ dives since starting diving in 2001, including some cave and trimix decompression diving too. Working for Apeks Marine Engineering I think it's fair to say he lives and breathes the sport!
As one of only 6 GUE instructors based in the UK James is keen to offer us the opportunity to learn all about GUE who they are, how they standardise equipment and why they always choose to dive in threes! His recently published article published in the January issue of SCUBA magazine (Capable of Teaching the Fundamentals Course) offers to improve the core skills, developing divers safety and control, whilst building strong team skills along the way.